Trash Humpers is, by today's standards, pure cinema. If the Lumiere's and Edison had not come up with the form in the 1890's, and cinema had instead begun in this previous decade with YouTube, an egalitarian access to cheap means of production, self-entitled justifications for expression, and cameras becoming one with every new technology, then Trash Humpers would be the most inventive piece of moving imagery we have seen. But since cinema has been around for a long time, long enough to produce mischievous, disingenuous souls like Harmony Korine, Trash Humpers is deliberately made to look like a piece of trash rather than a film. It's something that wasn't supposed to be released, but was found and somehow made it on to a screen.
It's an intriguing concept and one that is a logical progression in Korine's career. In 1997 directed Gummo, a simultaneously obnoxious and important film and then the unremarkable Julien Donkey Boy before disappearing for eight years, only resurfacing with 2007's Mr. Lonely. Before Gummo, he scripted Kids and that film, along with all the features he has directed, was one of the earlier and most sustained illustrations of an artistic sensibility that had learned cynicism so well, it was second nature. Nihilism, too, was just a given for any film, and it was all passed off a sort of post-modern post-modernism; anti-art, in a way. Yet that does not mean there is no legitimate storyteller to be found in any of these films; the storyteller was just often suppressed. In Trash Humpers, Korine has stripped his film down (this could almost be called a Punk Rock film) and tried to forget all about artistic rubbish, such as story. The grainy home video interludes in Gummo are here expanded in to the entire product. This is innovative, but in no sense is it mature; it is a Gen-Y attempt at going bonkers.
The subjects are exactly the people the title suggests. Four frightening looking old people who behave like debased teenagers, vandalizing, breaking in to homes, apparently kidnapping people for the sake of entertainment, murdering, and humping trash cans. Their exploits around Nashville are recorded by one of the group who does not appear on camera himself until about halfway through. There does not seem to be any law enforcement in town, children appear to be unsupervised and everybody they encounter is be similarly strung-out or deadbeat in their own way. But just as this is looking to be a cheapo document from some post-apocalyptic landscape that resembles our own, we become aware that it is really an elaborate hipster freak show. First of all, the other characters in the film—who include a horny guitar player, a duo of amateur performers and a cross-dresser on a bridge—look like normal people, unlike the trash humpers. This is because the four trash humpers are actors wearing fright-masks; director Korine and his wife Rachel being two of them. Scripted monologues are delivered, songs are improvised and each character is clearly aware of how outrageous what they are doing will look on tape. A circus has come to Nashville.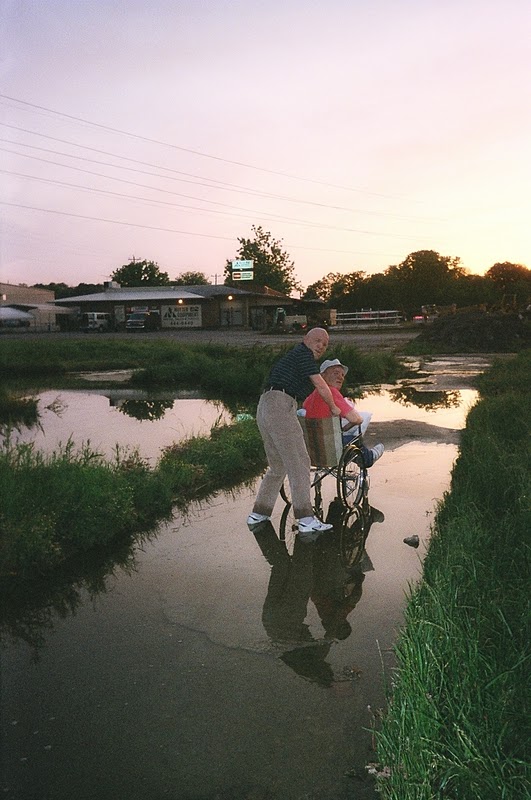 It is in this obviousness of being a crude inside joke, a clever stunt, that Korine's disingenuity comes in to play. Korine wanted to make this a "found document," and an amusing but pointless piece of trash. But to the close eye, Trash Humpers is very clearly a planned, structured film. What's more is its footage was clearly not captured by one of these scary denizens, but by a filmmaker. Nobody but a filmmaker would think of inserting shots of the red sunset over a city, or holding shots of the yellowness of the roadside lights. Nobody but a filmmaker would think of using a creepy nursery-rhymish song as a recurring motif. Nobody but a filmmaker would cut from a character (his character) pronouncing that he "feels like a new man", to a long shot of that character dancing and singing. Nobody but a filmmaker would end his film with a tender sequence involving a human baby, after so much mayhem, sin and some weirdness involving a baby doll. Trash Humpers takes a vignette form and shows people plotlessly goofing off within that form. It is not a formless mess of footage.
So why, then, can't Harmony Korine just call this a story? What he could have done was elaborated on the story aspects by making his character—the one with the camera- an actual filmmaker documenting these people, rather than one of them. That might have been more honest. Here is a film that does not even want to look like a film, that was deliberately made with cheap technology, that is frustratingly dishonest.
It is worth noting that Korine's filmmaking instincts do produce some fantastically clever scenes. The best scene comes early on, in which a little boy is playing basketball with the trash humpers and being mocked by them. He looks uncomfortable as the camera moves closer to him. But then he starts to get in to it. He is making evil pronouncements, riding around on a bike, and being taught by one of the humpers how to insert a razor blade in to an apple and offer it to someone. This mini-story within the film is both morbidly funny and feels like southern gothic style in overdrive. Scenes like this one make Trash Humpers worth watching, if only to see how filmmakers are reconciling digital technology and a smarmy attitude of aimlessness with a genuine story. It is not the reason Korine had in mind, but to hell with him.