(The Artist/2011)
Of course, if some projectionist were to bring a print of The Artist in to a time machine and go back to the late 20's, viewers would recognize that it is not really a silent film at all. Michael Hazanavicius' film has plenty of knowing tip-offs to this fact; first of all, in the opening credits, which begin on a black screen in the lower right hand corner in the manner of modern films, before becoming silent-movie style credits. Then there are the numerous dolly shots, which last longer and look smoother than anything Keaton or King Vidor might have attempted with a dolly. Then there is the fact that the actors are having far too much fun with this project for it to be an authentically hammy picture from the 20's, with one of the leads, actress Berenice Bejo, abandoning any pretense of naturalism in her performance. Then there are several scenes that break from the film's concept altogether and… well, to say more would spoil The Artist, and give away why the film is so fascinating and uneven.
The story is one sustained volley of movie allusions. In the name of the protagonist, George Valentin, we have a reference to the silent film star Rudolph Valentino, whose career had a similar trajectory—though a far more tragic ending—as that of George Valentin's. But in George Valentin's life story, we actually have the story of a handful of silent films stars; an actor who is famous on the silent screen in 1927, but whose studio chooses to switch over to talkies at the end of the decade; who then gets a double whammy with the stock market crash of 1929, and becomes a destitute nobody by 1932. In the film, Valentin meets and falls in love with Peppy Miller (Bejo) early on, and spurs her from a mere dancing career in to a film career. She excels in the talkies where he fails; their love is unrequited, partly because Valentin is married, and partly because of the very fact of changing times. George refuses to participate in the talkies, while Miller takes his place as the big star in Hollywood, but they stay in love all the while.
(The Artist/2011)
If there is a parallel with the modern film business anywhere in this film—the means of production change, the old stalwarts snub the new technology, the economy crashes, and the old ways become even more irrelevant—then Hazanavicius wisely downplays it, preferring to indulge us in the full-course of movie genres and styles that erupted in that great decade of the 1920's. He gives us a surrealist dream sequence that rings of Bunuel and Dali, a fast-paced Zorro movie that looks like one of the original Zorro's from the early 20's (or any action movie of the time), and an ornate composition on a large stairway within a studio that looks like something Keaton might have arranged and plays the way Chaplin might have played it. These are just a few of the silent film references. What is strange is that Hazanavicius apparently has no problem alluding to sound cinema, either. Bernard Hermann's famous Vertigo theme comes up in one crucial scene near the end of the film, causing one to wonder if Hazanavicius is not simply willing to deviate from the form of silent cinema; we wonder if he thinks we are watching a silent film at all.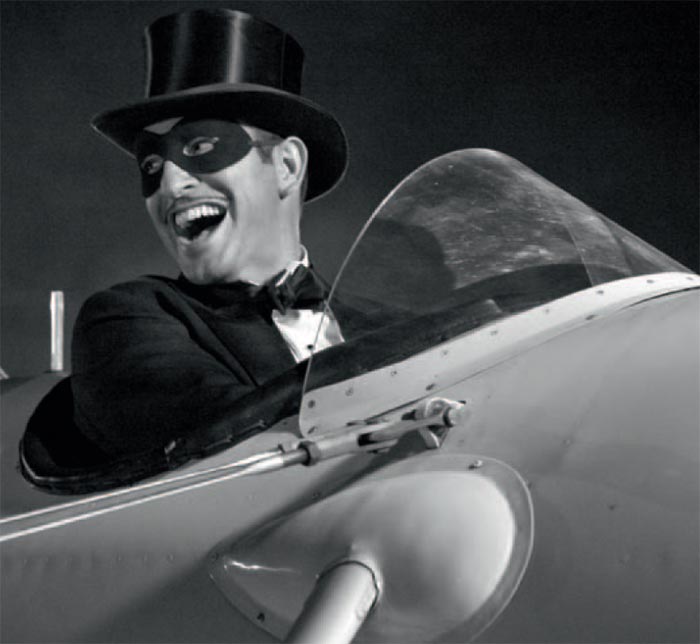 (The Artist/2011)
(The Artist/2011)
So the paradox of The Artist stands; in one sense, it is a massive concept movie, in another sense, it's concept is deceptive; this is not a silent film, and not quite an homage to silent film, either. It is more of an homage to our perceptions of silent film, and an admission that this memory has largely eroded after decades of sound. In this sense, The Artist is a very touching work, but it still leaves one feeling that perhaps it isn't taking itself seriously enough by the end. The final scene, while clever, is nonetheless a touch predictable and leaves the viewer thinking that perhaps this film was too cynical about its own subject. We got some great nostalgia, but not enough of it.
There is one great scene that does spawn from that nostalgia. When George and Peppy meet for the second time, on a film set, with the studio boss (John Goodman) calling the shots, a slate comes in to the frame, snaps, and a dancing scene commences. George dances with one woman, then Peppy, then they awkwardly depart. There is an overexposed white out of the frame that cuts over to the next take. The slate returns, and the dance continues, but this time George departs from Peppy and begins dancing with another man before realizing his error. Another white-out, another take. At some point in this sequence, we realize that perhaps this scene is not being shot, per se. Perhaps it is a memory of George's, or of Peppy's, or a mash of their collective memories that they are revising again and again, because they didn't dance together in quite the right way. Their encounter is still imperfect. Their moments of dancing are blissful, but the scene requires that they move on to other partners. The end of the last take leaves a confused and disappointed Peppy standing alone in the crowd of dancers before another white-out, and the last cut. Film was then, and has always been, just a revision of collective memories. It is a way of getting them as close to ideal as you can before the overexposure.
(The Artist/2011)